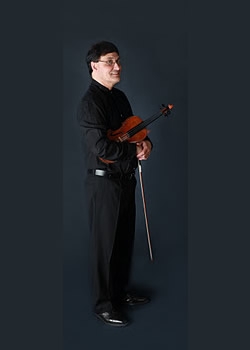 David Angel was a founder pupil of the Yehudi Menuhin School, where he studied with Yehudi Menuhin, Frederick Grinke, Jacqueline Salomons and Nadia Boulanger. In 1971 he won an Associated Board Scholarship to the Royal Academy of Music, continuing his studies with Frederick Grinke and receiving chamber music coaching from Sidney Griller, winning prizes for both solo and chamber music. He was a co-founder of the Maggini Quartet in 1988.
David's solo playing has received acclaim, winning high praise in The Times for performances of Bach's Chaconne and E major Concerto with the London Contemporary Dance, and in the Financial Times in 1988 for a performance at the Almeida Festival. He has played 'Autumn' from Vivaldi's Four Seasons on many occasions, notably at the Barbican with the London Mozart Players, and has been a soloist with London Musici.
Co-leader of the second violin section of the London Mozart Players, he has led the second violins of many of the leading London chamber orchestras including London Chamber Orchestra, London Musici, Orchestra of St. John's and Sinfonia 21.
David has a long-standing duo with pianist David Elwin, with collaborations including their maiden tour of Japan in 2007. He is also in great demand as an ensemble player, working with Divertimenti, 'Jeux', Capricorn and the Prometheus Ensemble.
He is an ARAM and in demand as a teacher and chamber music coach; in autumn 1993 he was appointed Professor of quartet playing at Birmingham Conservatoire. He is also an Honorary Fellow of Canterbury Christ Church University and Brunel University.
David plays on a Maggini / da Salo composite violin circa 1600